Paul McCandless – oboe, English horn, bass clarinet, saxophone
Günter Wehinger – flute
Art Lande – piano
Blue Glass Chris Lee 8:15
Spanish Stairs Paul McCandless 5:01
Exploration Günter Wehinger 3:55
Round Robin Paul McCandless 6:41
The Hidden Jewel Art Lande 5:29
Transformation Paul McCandless 5:46
Nora Karim Ziad / Nguyên Lê 5:22
Contemplation Art Lande 6:33
Recorded 2000 in Weggis, Switzerland
Watch a short video clip on youtube.
Intricate, melodic soundscapes played (and mainly composed) by Paul McCandless – oboe, English horn, bass clarinet, saxophone; Günter Wehinger – flute and Art Lande – piano. The music is a complex blend of classical, jazz and improvisation – and needless to say, the playing is technically flawless with plenty of soulful solos, imaginative space, and soaring melodies. – – Presto Classical

Paul McCandless, Oboe / Englischhorn / Bassklarinette und Saxophon, der Österreicher Günter Wehinger, Flöte, und Art Lande, Piano, ergeben ein tolles Trio, das mit tollen Eigenkompositionen aller beteiligten Musiker glänzen kann. Auch in der Ruhe liegt Kraft und McCandless, Wehinger und Lande verfügen über diese gestalterischen Kräfte um "the hidden jewel" aus seinem Versteck ans Tageslicht zu bringen. Bei zwei so großartigen Bläsern sind sorgsames Zuhören und aufeinander Abstimmen sehr von Bedeutung. Art Lande geht mit dem ihm zur Verfügung gestellten Raum einfallsreich um, und so hat man seine ungetrübte Freude an der Musik dieses Trios, das von musikalischem Ideenreichtum (wunderbare Melodien) und gefühlvollen Soli lebt. "The Hidden Jewel. 21st century chamber music" kombiniert Klassik, Jazz und Improvisation auf niveauvollste Weise. – Christian Bakonyi, Jazzzeit
You can download the album or only single titles at the iTunes store.
For more information about the ensemble "THE HIDDEN JEWEL" please click here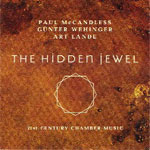 $20.00